Relaxing Wall Art For Your Therapy Office
Choosing the appropriate art for a room is the most difficult task to decorating a therapy office (well, some would say the paint color for the wall is, but I'll save that whole enigma for another blog post 🙂 ).
You'll need at least two art pieces. One soothing large piece of art that draws the client into the room and one medium-sized art that will be in view of the client when they are seated (for more guidance, get your free e-book at the end of this blog post!).
Which wall should the large wall art hang on?
First you'll need to choose your focal wall. Since the sofa and accent tables with lamps on them draw the most attention in the room, that area is the focal point of the room. Hang your large wall art behind the sofa.
How do you narrow down your search?
Let me save you at least 20 hours of searching! Come, step into my gallery below…
*tap on images to shop(may include affiliate links, which means I get a small commission, at no extra cost to you)!



Here are some medium-sized art pieces (in view of clients when they are seated):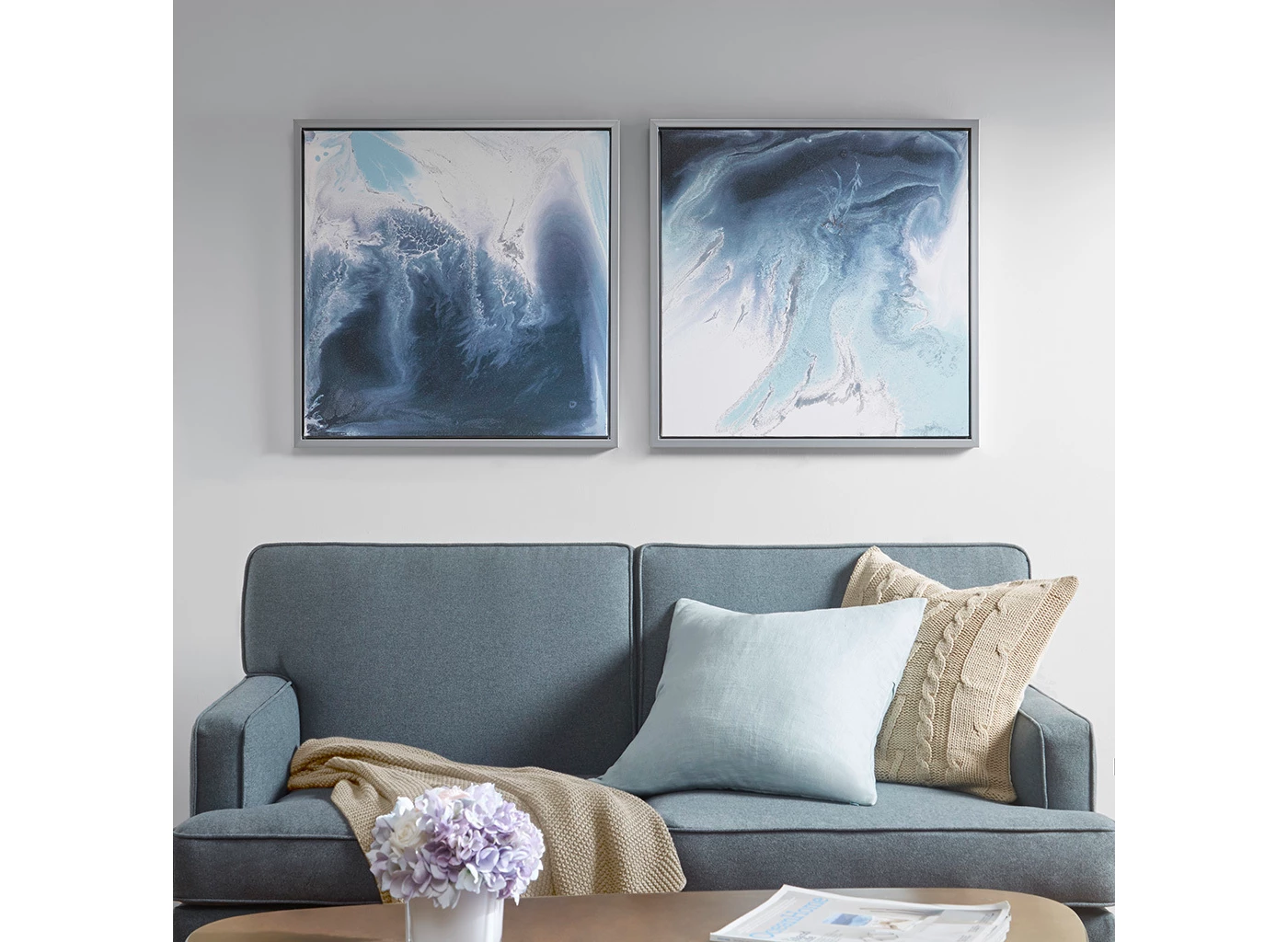 How do you know which size to choose?
You will want the art to be a minimum of half the length of the sofa, but the best size will fall somewhere between 2/3 – 3/4 of the length of the sofa.
What else should you consider when picking a calming piece of wall art for your clients?
Make sure to steer clear of anything that the client may have bad associations with. I avoid all images of people. The best choices are abstract or landscape paintings with soothing colors in them. There are many styles of abstract art. Avoid bold or graphic patterns and look for more organic soft lines (think marbled design rather than geometric shapes).
HOW DO I HANG MY FRAMES IN 20 SECONDS WITH NO TOOLS?
I have to share this trick with you! The little gadget I discovered makes it soooooo easy to hang frames and mirrors!
You literally push them into the walls with your thumbs(must be drywall)! The first time I tried them, I hung up all my art in 20 minutes! You know, that box of art you never get around to hanging because the process is too annoying?!?? Yep, that took 20 minutes to hang!!!
It's perfect for renters too because it leaves the tiniest holes in the wall. The next time you move, you can just remove them and dab the matching paint on the hole with a cotton swab. Super easy!!!
Hope you found this helpful!
I'VE GOT SOME OPTIONS FOR YOU DIYers!!!
I just launched, "Therapy-Office-in-a-Click"!!!  It's a budget friendly way to get the therapy office you've always dreamed of. It includes links to everything from furniture, plants and decor items down to inspiration stones and soothing scented oils. All items have positive customer reviews- you can skip all that time researching! Click HERE to start shopping!
I also created an e-book,
"A step-by-step guide to decorating your tranquil therapy office."
 It includes a detailed breakdown of how to create a therapy office with amazingly soothing energy. It also includes a checklist of all the items you'll need to buy. This e-book is FREE! Click here to get your e-book! 

Looking for great rugs for your office? Head over to my latest blog post!

Did you miss my post, "Designing a Therapy Office"? Check it out here!!!